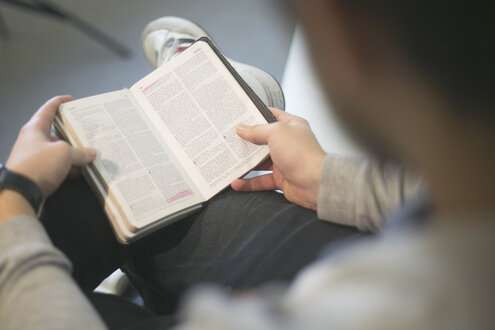 In 2020, our church family worked through David Helm's book, "One-to-One Bible Reading," during a series of Sunday evening studies in an attempt to apply 2 Timothy 3:14-17.
"[One-to-one Bible reading is] a variation on that most central Christian activity--reading the Bible--but done in the context of reading with someone. It is something a Christian does with another person, on a regular basis, for a mutually agreed upon length of time, with the intention of reading through and discussing a book or parts of a book of the Bible."
We believe this activity provides a powerful tool for evangelism and edification. Paul told Timothy that the Scriptures are able to make a person wise unto salvation, and they are also profitable to complete a person to be thoroughly equipped for God's work for his or her life.
In an effort to put truth in action, we encourage believers in our assembly to read Scripture with one another, and we have several reading guides available for those interested (e.g., a 5-week reading plan for Philippians, a 9-week plan for Colossians, and a 12-week plan for reading 1 & 2 Thessalonians).